I'm continuing my series Ideas for Celebrating the Resurrection at Hive Resources with a powerful and FUN new resource  for your family from Oh Amanda.
A Sense of the Resurrection
A Sense of the Resurrection: an Easter Experience for Families is an ebook that guides your family through the Resurrection story in 12 activities.
Along with a Scripture passage and talking points, each activity utilizes one of the five senses, giving kids the chance to experience the Resurrection story in a whole new way. But unlike her Advent experience book, Truth in Tinsel, the activities in A Sense of the Resurrection are more "memory-makers" or "memorials" than simple crafts. 
Some of the activities include:
making bread to remind us of Christ's sacrifice
smelling perfume to remind us to prepare our hearts for Christ
making wind chimes as a joyful sound as in the Triumphal Entry
washing one another's feet to remind us of our Servant-King
Along with instructions and pictures of each activity, Amanda also provides a printable pennant that goes with each lesson. These can be used along with the lesson, as a follow-up teaching tool, or in place of the activities.
In my house, we already colored our pennants and hung them on our mantle. We're ready to begin the Easter Story! My plan is to select key activities during April that match our schedule, and then use the pennant to reinforce what they are learning.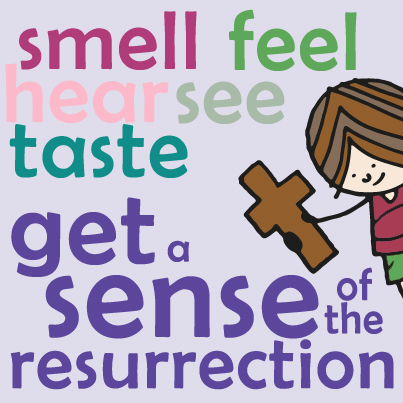 Since there is no set schedule for these activities, the pressure is off. We can enjoy the Easter season and follow the story without worrying about missing a day. Plus, the banner hangs as a little billboard to any guests that might join us during April.
coupon code
This week only,  A Sense of the Resurrection: an Easter Experience for Families is on sale! Use the coupon code OHEASTER to get 20% off the ebook. But hurry! The code expires tomorrow (Mar. 28)! 
This post contains affiliate links. Special thanks to Amanda White for providing me a preview copy of her book!
I'm linking up with Faith-filled Fridays!